#NoLegida – Leipzig an einem Mittwochabend im Januar 2015.
gewürfelte_cutz // » Cookin up some marvelous shit to get your mouth waterin on some "O SHIT"! [C.S.] «&nbsp
30.000 bis 40.000 Teilnehmer waren ursprünglich durch die Organisatoren von LEGIDA – "Leipzig gegen die Islamisierung des Abendlandes" angemeldet.
15.000 sollen teil genommen haben, zumindest ist das die offizielle Zahl der Stadt.
5.000 bis 10.000 hingegen ist die schwankende Zahl in den verschiedensten Medien.
Auch Wissenschaftler haben gezählt.
19 Gegenveranstaltungen waren angemeldet.
20.000 bis 25.000 Gegendemonstranten – #NoLegida.
4.000 Polizisten aus dem Bundesgebiet (der größte Einsatz in der Geschichte Leipzigs seit 1989).
Ø Nahverkehr.
Ø gelernt.
"Legida – läuft nicht!"
Alle Demonstranten haben etwas gemeinsam: Sie sind unzufrieden.
Das Problem ist nur, dass man deshalb als Demonstrant nicht unreflektiert auf die Straße gehen und sich irgend einer Gruppe anschließen sollte, die ganz klar in die rechte Ecke gehört.
Jaa!: Simple Parolen sind toll und einfach, aber sie bieten so gut wie nie eine Lösung, geschweige denn überhaupt eine Fakten-Grundlage (auch wenn es dieses Internet gesagt hat). Es ist seltsam, dass sich momentan selbst der "normale Bürger" damit fangen lässt. Aber eigentlich sollten wir das ja schon aus der Geschichte kennen: Unzufriedenheit & Angst.
Die Veranstalter der LEGIDA setzten sogar noch einen oben drauf und wollten ihre komplette Route des Demonstrationszug so gestalten, wie einst zu den Friedensdemos 1989 in Leipzig – über den Innenstadtring. Deshalb wurde auch der Augustusplatz für die End-Kundgebung ausgesucht: Ein heiliger Ort für alle, die es damals miterlebt haben.
Alles geplant? Alles geplant! Scheinbar funktioniert es und Menschen, die sich damit identifizieren, gehen wieder auf die Straße – nur merken sie nicht, dass sie auf der falschen Seite laufen.
Die Kraft der Gegendemonstranten der Leipziger an diesem Mittwochabend hat für die globale Sicht auf die Stadt wieder eine gutes Zeichen gesetzt. Allerdings sollte man immer bedenken, dass extreme Ausschreitungen und bloßes Parolen-Anschreien selten was im Kopf verändert. Ganz im Gegenteil, Gruppen noch mehr zusammen schweißt und gegeneinander auf bringt.
So simpel es klingt:
BILDUNG HILFT!
VERSTEHEN HILFT!
REDEN HILFT!
Argumente austauschen bis zur Selbsterkenntnis – auch wenn dies bei dieser Menge schwer fällt. Nur aber so lässt sich der großen Anzahl an Lügen, und Lügen für vermeintliche Lügen, entgegen wirken.
Und wie man aus verschiedensten HipHop-Filmen der letzten Jahrzehnte wie bspw. La Haine, Menace II Society oder Boyz N The Hood lernen konnte:
Hass schafft immer nur mehr Hass.
---
Dokumentierte und unkommentierte Bilder beider Seiten vom 21. Januar 2015: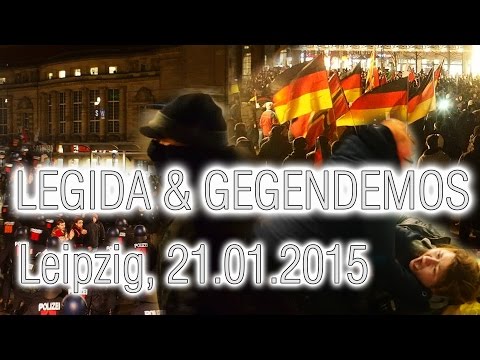 Die TAZ schreibt:
"Einige Einwohner hatten Transparente aus ihren Fenstern gehängt und den Mob zurück nach Dresden gewünscht. Ein Laken mit der Aufschrift "Wirr ist das Volk" beschrieb die Legida-Teilnehmer.
"Die können ja noch nicht mal richtig deutsch, die schreiben 'wir' mit zwei r", amüsierte sich eine Vertreterin der deutschen Volkskultur."