END OF THE WEAK – Worldwide Freestyle-Rap League: Das "German-Chapter" geht nach Leipzig.
gewürfelte_cutz // » Die sind nicht Untergrund sondern unter aller Sau. [S.S.] «&nbsp
Das END OF THE WEAK Movement steht nun seit gut 15 Jahren auf eigenen Beinen. Es begann als wöchentliches "Open-Mic" im Sommer 2000, in einem kleinen Restaurant in Lower East Side, New York.
Den MCs dort sollte damit eine Plattform ermöglicht werden, um den kreativen Austausch im "Freestylen" voran zu treiben und sich gegenseitig mit seinen "Skills" im Improvisieren zu messen.
Heute ist das EOW das am längsten bestehende, wöchentliche "Open-Mic" in New York und die Bewegung hat sich zu einem weltweiten, multikulturellen Movement entwickelt: 15 Länder wie u.a. Großbritannien, Spanien, Frankreich, Brasilien, Chile, Argentinien, Senegal, Uganda, Italien und Deutschland in über 5 Kontinente und 22 Städten auf der ganzen Welt gehören dazu.
Das Veranstaltungskonzept setzt sich konsquent von üblichen "Rap-Battles" ab, wo eher der gewinnt, der das meiste Publikum hat: Rassismus, Sexismus & Gewalt haben hier nix zu suchen.
THE RULES

Je nach Anzahl der Angemeldeten werden in einer Vorrunde maximal 6 Personen bestimmt die dann in folgenden Disziplinen gegen einander in der Challenge antreten. Bei Weltmeisterschaften werden die Challengeteilnehmer aufgestockt.

Text – Der MC hat Zeit um einen selbstverfassten Text zur Musik seiner Wahl vorzutragen.
Acapella Verse – Der MC hat 60 Sekunden Zeit, einen Freestyle oder eigenen Text ohne Musik vorzutragen.
Grab The Bag – Der MC bekommt einen Beutel mit Gegenständen aus dem täglichen Leben darin. Er zieht sie einzeln heraus und rappt darüber zur Musik.
MC vs. DJ – Der DJ spielt verschiedene Schallplatten ab, die aus verschiedenen Genres kommen. Es geht hier um unterschiedliche Geschwindigkeiten und Musikübergänge, um zu sehen wie der MC diese bewältigt.
Cypha Modus – Alle Teilnehmer rappen 4 Runden lang jeweils 4 Zeilen und gehen dabei auf den Vorgänger ein. Der Host gibt einen 4-Zeiler vor.Die Jury bewertet jede Runde nach folgenden Kriterien mit Punkten von 1 bis 10:
Lyrics (Lyrik) – Stage Presence (Bühnenpräsenz) – Creativity (Kreativität) – Delivery and Flow (Vortrag und Flow) – Crowd Response (Publikumsreaktion)Das bedeutet, dass in einer Runde bis zu 50 Punkte gesammelt und nach einer perfekten Challenge 250 Punkte "errappt" werden können. Fester Teil der Veranstaltung ist ein Showcase nach der Vorrunde und der eigentliche Partyteil des Abends, bei dem nationale und internationale DJs und Liveacts das Publikum zum tanzen bringen. Der Gewinner qualifiziert sich für das deutsche Finale und der deutsche Champ für das Weltfinale.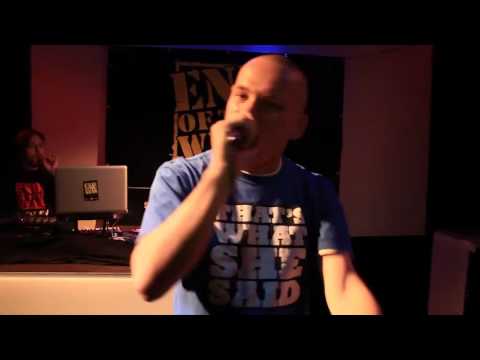 ---
Die EOW ist seit 2006 auch in Deutschland aktiv vertreten – mit wöchentlichen und monatlichen Veranstaltungen, von Berlin aus, in der ganzen Rapublik.
2009 fand eine Jam auf dem Alexanderplatz unter der berühmten Urania-Weltzeituhr statt, bei dem u.a. auch John Robinson aufgetreten ist.
2010 gab es die erste Weltmeisterschaft in Deutschland, im Berliner Yaam. Als Gäste waren Künstler wie John Robinson & Lewis Parker (USA/UK), Iron Solomon (USA), Jack Flash (UK), Yarah Bravo (USA/GB/DE), Big Zoo (USA), Chefket & Amewu (DE), 4XSample, Le Very Stronger Crew (FR) geladen.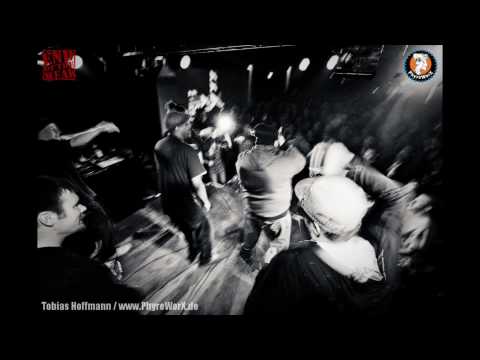 Seither rollt eine City-Tour, bei der sich die Besten der Besten beweisen können, durch alle beteiligten Städte im Bundesgebiet –mit finaler Austragung auf dem alljährlichen SPLASH!-Festival in Ferropolis.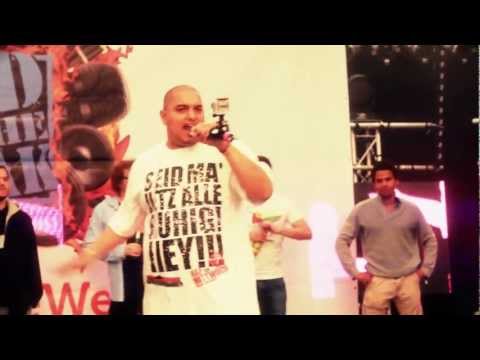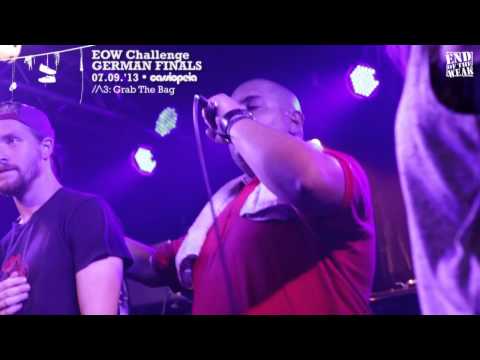 Zu den letzten End Of The Weak Finals 2014 traten Trump (München) vs. Hansen (Berlin) vs. Terminus (Essen) vs. Pille (Köln) vs. Galv (Stuttgart / Hamburg) vs. Jahmica (Leipzig) auf der Aruba-Stage gegeneinander an.
2015 nun wurde das German Chapter durch Zulu Borke und Mirko Knightstalker von Berlin nach Leipzig übergeben – an die Jungs der WORD! cypher / EOW Leipzig. DJ iGadget bleibt weiterhin im Boot und gemeinsam mit einem neuen Team werden sie nach einem Kreativ-Break in diesem Jahr, 2016 frischen Wind nach RAP-Deutschland bringen.
Gerade wenn man sich mal die Freunde in Frankreich anschaut, geht da noch einiges in Sachen Freestyle-Competition – auch Open Air mitten im großen Paris…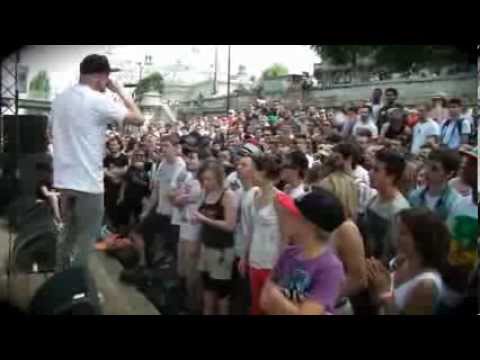 DIGG THIS!