Was läuft!? #Leipzig "ALL 4 HIP HOP JAM 2015".
gewürfelte_cutz // » 'Fore the DJ started cuttin', I was already fuckin'! [T.T.] «&nbsp
23. & 24. Mai #Conne Island
"All 4 Hip Hop Jam 2015"
Im Conne Island startet dieses Jahr am 23. und 24. Mai die fünfte All4HipHopJam! Angeboten werden verschiedene HipHop-, Breakdance-, DJ- und Rap-Workshops. Neu dieses Jahr: Ab 20:15 Uhr gibt es am Sonntag zum ersten Mal das HipHop Quiz!
Samstag, 23.05.15 – Outdoor:

13:00 Uhr Real Rhyme Estate
14:30 Uhr Lui G
16:00 Uhr Rana Esculenta LIVE!
17:00 Uhr ÜBK & DJ Full Contact LIVE!
18:00 Uhr WORD! Cypher Open-Mic mit Bazel, Ranko, WRETCH & DJ derbystarr

Samstag, 23.05.15 – Indoor (ab 20:00 Uhr):

Talib Kweli LIVE!
Akua Naru & Band LIVE!
Apollo Brown & Ras Kass LIVE!
Rapper Big Pooh (Little Brother) LIVE!
MC Melodee & DJ EZD LIVE!
Pre- & Aftershow: That Fucking Sara & DJ Conikt

---

Sonntag, 24.05.15 – Outdoor:

14:00 Uhr DJ Conikt & C'est Le Mongrel
15:00 Uhr Skate Contest
16:00 Uhr OverDubClub Beat-Stammtisch
19:00 Uhr Ket LIVE!
19:30 Uhr Dhema LIVE!

Sonntag, 24.05.15 – Indoor:

14:00 Uhr Breakdance Workshop
14:00 Uhr Rap Workshop
20.15 Uhr RÄBBORDY – Das HipHop Quiz, hosted by Harry Wijnvoord Double Tizzoe
ab 23:00 Uhr
Diamond D (of D.I.T.C.) Special 45s Set
Marc Hype
Fresh Green
Buzy A
Fresh Buzyness (LHITP)
Conne Island
Koburger Str. 3
04277 Leipzig
Die Anmeldung für die Workshops & das Quiz laufen über www.all4hiphop.de. Während der gesamten Zeit hängt eine Photo-Austellung zum Thema "HipHop in LE" im Café des Conne Island.
Die Outdoor-Aktivitäten & Workshops sind kostenlos, die Indoor-Konzerte & Veranstaltungen kosten am Samstag 29,50€ und Sonntag 10,00€ AK.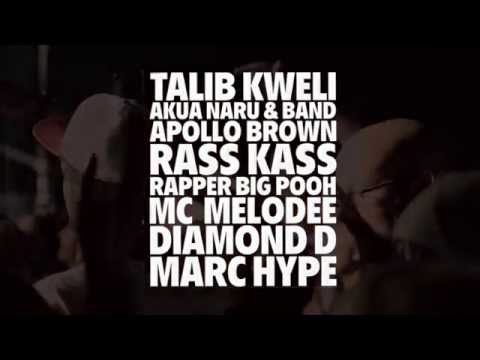 DIGG THIS!