THOMILLA VS. STYLEWARZ & TOMEKK VS. DESUE: 2000er DJ-Beef in Deutschland.
gewürfelte_cutz // » But they don't understand how I feel about the funk: I walk with the funk, I talk with the funk; I eat with the funk, I sleep with the funk; I live for the funk, I'll die for the funk! [M.F.] «&nbsp
In der Szene gab es schon immer "Bitch-Moves", nur das sie früher um das Jahre 2000 etwas besonderes waren und dementsprechend auch besonders von der Szene sanktioniert wurden. In einer Zeit als noch eher "der DJ vor dem MC auf dem Flyer stand", bekriegten sich HipHop-DJs neben den offiziellen I.T.F. und D.M.C.-Competitions, auch mit darüber hinausgehenden öffentlichen Battle-Szenarien.
THOMILLA VS. STYLEWARZ
Zur Jahrtausendwende begann der Fight zwischen DJ Thomilla aus Stuttgart und DJ Stylewarz aus Bremen/Hamburg. In einer Ausgabe des HipHop-Magazins Backspin disste Stylewarz Alle, die "DJ-mäßig keine Skills haben" und scheute sich nicht, Namen zu nennen. DJ Thomilla & Michi Beck aka Benztown Rockers (aka Turntablerocker) reagierten mit einer Produktion"Fick dich, aber richtig", die sie auf Vinyl-Whitelabel an 75 ausgewählte DJs verschickten.
Stylewarz forderte darauf hin Thomilla über VIVA im TV, zum ITF-Finale in Hamburg heraus, um ihn an den Turntables zu batteln. Außerdem releaste er einen Monster DJ-Turntablism-Battle-Track, über das Label Eimsbush: "Dissziplin No.1"
"Diese Tonträger-Veröffentlichung soll in keinster Weise einen, von den Medien stark herbeigesehnten Hamburg-Stuttgart Konflikt schüren.

Ein DJ aus Bremerhaven machte eine Maxi und ein Label aus Hamburg brachte das raus. Das ist alles. Peace an Stuttgart!"
Einige Reaktionen / Kommentare von den Headz, kann man noch in alten, archivierten Foren (Mai 2000) nachlesen.
https://groups.google.com/forum/#!topic/de.alt.music.hiphop/8wpgUjT1MQA
---
TOMEKK VS. DESUE & CO.
Noch im gleichen Jahr kam der nächste Konflikt, der DJ Tomekk seither jegliche Kredibilität in der Szene entzog, obwohl Thomas Kuklicz durchaus im Stande war, dope Mixtapes zu produzieren. Desue schickte Tomekk in Zusammenarbeit für Jay-Zs "Anything"-Remix ein Tape mit Beats.
Diesen Remix veröffentlichte Tomekk unter seinem Namen auf der Platte, außerdem verschickte er weitere Beats unter "Tomekk" an verschiedene Rapper in Deutschland. Tefla & Jaleel und die Massiven Töne sollen CDs bekommen haben – bspw. der Beat "Laller" vom Album "MT3".
2001 reagierte DJ Desue zusammen mit KC da Rookee, Samy Deluxe & D-Flame auf dem Diss-Track "Fuk Toemack" und lies dazu noch T-Shirts & Sticker drucken. Tomekk lies dies durch seinen Anwalt per gerichtlicher Verfügung verbieten, außerdem soll sogar Tomekk noch Desue verklagt haben, weil er in einem Interview sinngemäß meinte: "Ich denke er ist eh nicht mehr ganz normal."

---
Und 2014?
Wo es eigentlich viel, viel mehr noch zu sagen gibt, geht endlich –international– DJ Craze aus Miami "in die Vollen" und sendet seine Botschaft an die so genannten Star-DJs (wie David Guetta, Paris Hilton & Co) ohne Seele und Skills.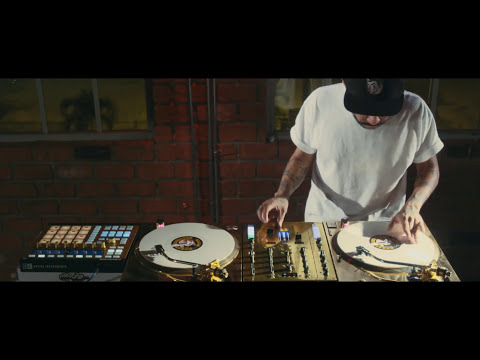 IF YOU WANNA BATTLE!?