#TheArtOfTheState 01/16 – "Welt(schreckens)bilder"
gewürfelte_cutz // » Aber der Flow macht leider die Quantisierung im Herzschrittmacher. [D.E.] «&nbsp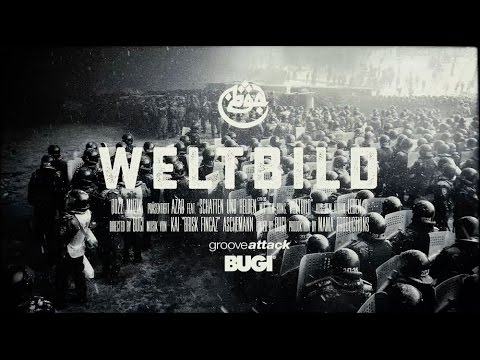 Weltbild. Minute eins – "träum wie am Ende die Vernunft gewinnt" – ein Sieg der Vernunft im Land des Wahns – ein nahezu kindlicher Wunsch. Also grossherzig und mutig, aber manchen(™) konnte es nicht schnell genug gehen mit dem Spott und der Häme, eimerweise. Man beschuldigte Azad der weltfremden Kitschigkeit und Naivität, nur weil er es wagte die Abscheu vor den komplexen Ekelhaftigkeiten unseres Alltags mit einfachen, schlichten Worten auszudrücken. Oder sich inzwischen wieder unvorstellbares zu wünschen. Händereichen ist Erhabenheit, aber ihr spottet ja lieber und verkennt die Größe dieser kleinen Wünsche.
Aber hey, wen will es noch wundern, dass in diesem heissgelaufenen Diskurschaos, ein vom Frieden tagträumender Chabo irgendwie deplatziert wirkt. Ich mein, was soll dit auch? Der Schwarzkopp soll gefälligst Tiere aus dem Zoo entlassen, beim IS schlachten oder schnufffeilbietend an der nächsten Ecke rumlungern. In dieser Rolle überfordert er doch alle Stereotypenbetreuer und Klischeeverwalter. Kobane, Feminismus, Werte, Realtalk – die zucken doch nach Sekunden in Schauern kognitiver Dissonanz auf dem Boden der Tatsachen rum.
Schlimm genug, dass man heute scheinbar nur noch mit Teleskopschlagstockpingpong und ironiebefreiter Anabolikavisage Videos abdreht. Zieht ja bei den Kids, dieser Inszenierungskleister, auch wenn Zweifler flüstern "es is ne Lügenstaffelei auf der das Weltbild liegt". Dreht sich halt alles um lila Klicks.
Und die Hysteriker der kollektivängstlichen AfD müssen nur mal einen der aktuellen Clips gucken um all ihre Angstbilder bestätigt zu bekommen – gewaltbereite Täter überall! Und so schaukeln sich zwei komplett falsche Weltbilder gegenseitig hoch. Und die Lügen der Videos werden die Wahrheiten der Lügner auf den Strassen.
Traurigerweise bricht (ausser dem mighty Halbnasenmensch SSIO) keiner dieses Spiel mal mit etwas Ironie auf.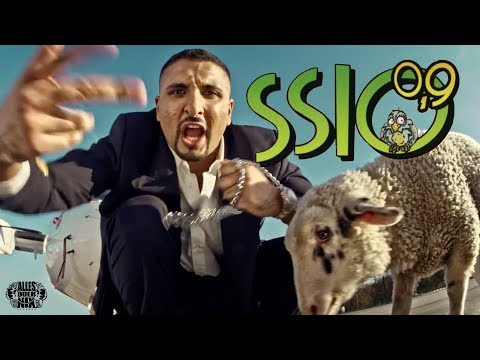 Und wenn's mit der reinen Lehre der Ultrabrutalen mal nicht mehr klappt, einfach noch ein bissl von Chemtrails und supergeheimen Logen fasseln, dann klappst auch mit den Youtubeakademiker. Yap. Substanzlos. Aber im neuen Spiel gehts um Substanzenmissbrauch, Beinpressen, Ekelgrenzen und Schockeffekten.
Dabei war Zweifünfzehn nicht mal so 'ne schlechte Ernte: Ein befreit zaubernder MoTrip, der übertrieben deepe Dreiaktschreiber Credibil, die völlig normalen Yassin & Audio88, die endlich goldgeschmückten KIZ, die politisch wachen Konsensstyler von Zugezogen Maskulin, ein gnadenlos polternder Ali As und der königliche Jahresabschluss mit diesem Fatoni/Dexter-Monstrum. Und Gossenboss mit Zett is eh ausserweltlich mit seinem Einkaufswagenimperium.
Deutschrap muss zwar immer noch sterben, aber der deutsche Rap hatte schon deutlich schlechtere Jahre als dieses …
… und gerade weil 2015 eigentlich ein Jahr war, das aus allen kreativen Nähten platzte, vieles möglich und vieles entspannter machte und tausende Stöcke aus den Pos zog frag' ich mich, wieso ist euer Weltbild noch immer so traurig. Tony Montana is am Ende immer noch 'ne Leiche, oder?
Alle wollen Paten sein und keiner mehr irgendwie eigen.
Und ihr fragt euch warum so viele alte Heads und Katzen das Spiel inzwischen so kritisch sehen, vielleicht weil Technik eben doch entscheidet, Humor das fünfte Element bleibt und reflektierte Weltbilder überzeugen. Kurz, alles was euch fehlt. Und was bleibt euch dann? Spott.
---
Tl;dr:
Azad wünscht sich naives. Ihr lacht und spottet und verkennt.
---
[Gastkolumne] 

Der digitale Flaneur is 'ne Oldschool-Schleichkatze straight outta Berliner Hipsterenklave Neukölln. Er chillt noch immer mit A E I O U und den letzten Flashpunks rum. Nennt einen grünen Pass mit einem goldenen Wookie drauf, sein eigen und findet Torch und Savas antik, aber er zahlt immer noch Mitgliedsbeitrag bei der Silonation e. V. Zwiespältige Type halt.

"Der Titel ist ein kleines Spielchen mit der Zuordnung von Worten. Nicht The State of the Art, also der Stand der Kunst, sondern The Art Of The State – also die Schönheit des Punches steht im Zentrum."

Aufzufinden ist er in diesem Internetz unter @digitaleflaneur. Früher schrieb er auch wortreich auf derdigitaleflaneur.blogspot.de.